Savona Lacquered Anthracite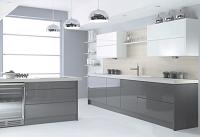 Modernism has just moved to another dimension .With this seven times lacquered range of doors and colors. This ripple free high gloss finish produces a highly reflective surface. In isolation it is perfect for creating the perfect minimalist style. Combined with neutral ranges the freshness of gloss highlights and enhances sublet one to create an under stated look.
Total Items: 275 (Currently viewing 1 - 40)
Base Units
Tall Units
There are currently no reviews of this product.